BATTLEFORD WEST...
Originally proposed in 1911 the new BATTLEFORD WEST is a heritage themed 130 acre Planned Community combining 250 residences and 50,000 sf of neighbourhood retail premises.
Telegraph Heights in Battleford West is a 36 lot subdivision with 11 houses completed and 8 planned for construction in 2013. There are 8 lots remaining available for sale. Heritage Landing, a 36 unit multi-family community has 8 condominium units completed and occupied and 4 units planned for construction in 2013/2014.
Battlefords Crossing is a neighbourhood retail commercial district on the west side of Highway 4 serviced by a new 29th street signalized intersection. Sites are available for "Build to Suit" leasing opportunities. Construction has commenced on a Tim Hortons which has a planned opening date of December 15.
Battleford West is a Master Planned community featuring design controlled residences and open spaces with walking trails linking to convenient neighbourhood shopping.
BATTLEFORD WEST is located 1km south of the Yellowhead Highway at the two primary accesses into the Town of Battleford.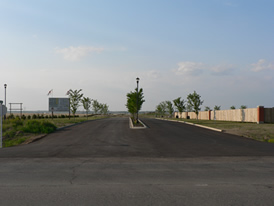 Entrance to Telegraph Heights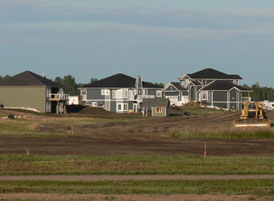 Telegraph Heights Photos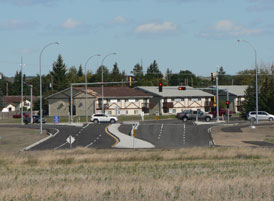 Entrance into Battleford Crossing
Sunset at Telegraph Heights